June 15, 2021
SSI Partner LiFEsports Receives Million Coaches Challenge Grant
Image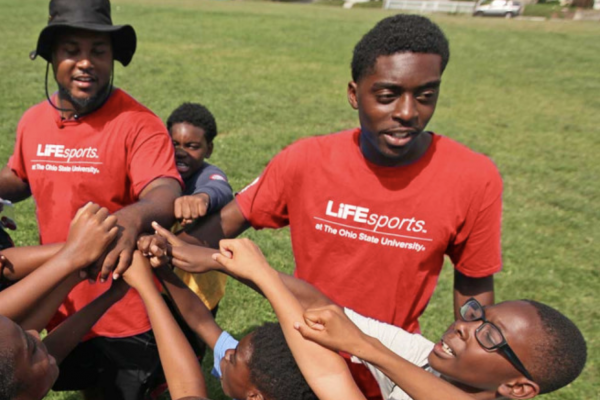 Description
The Ohio State University LiFEsports Initiative, managed by leaders in the Department of Athletics and the College of Social Work, has been awarded a grant from the Susan Crown Exchange (SCE) Million Coaches Challenge to develop and implement in-person and online coach trainings across Ohio.
 
The Ohio High School Athletics Association (OHSAA) is a key partner in the project, along with seven school districts: Elgin Local Schools; Newark City Schools; Wheelersburg Local Schools; Dublin City Schools; Akron Public Schools; Logan-Hocking School District; and Mansfield City Schools.
 
"The vision of those schools along with the OHSAA and the LiFEsports Initiative, closely aligns with the goal of this Challenge: to train one million coaches by 2025 and build a future where our kids know how to work together, celebrate success, manage setbacks, and are equipped with the skills they need to thrive," wrote Susan Crown, Chairman and Founder of the SCE, in announcing the partnership.
 
LiFEsports has grown to address the ever-changing needs of our community's youth and the field of sport-based positive youth development (PYD). This three-year project will reach at least 15,000 coaches across Ohio through in-person and online Social-Emotional Learning (SEL) training and modules. Example trainings topics include developing athletes as leaders, building relationships among players and coaches, and engaging parents and the community.
 
Project leads will be Dr. Dawn Anderson-Butcher, Professor of Social Work and Executive Director of Teaching/Research of LiFEsports; Dr. Doug Ute, Executive Director of the OHSAA; and Dr. Jerry Davis, Director of Staff Development in the Department of Athletics and Executive Director of Service/Outreach for LiFEsports.
 
About the Million Coaches Challenge
The evidence is clear: well-trained coaches are far more likely to promote positive outcomes, while untrained or poorly-trained coaches can actually have a negative impact.
 
While most youth sports coaches recognize the key role they play in promoting PYD, they often don't feel supported in doing so. Coaches report that existing trainings are either too costly, too time-consuming, too hard to implement or fail to incorporate relevant content useful t practice. The majority of coach trainings that exist are designed to win games – not necessarily to help kids thrive.
 
Less than one-third of the country's six million coaches have been trained in youth development practices. SCE and its partners envision a world in which all young athletes, regardless of their family's income, their gender, their race, or their ability status, have access to coaches who are well-versed in youth development and skill-building techniques that help kids succeed on and off the field. The first step: train one million coaches by 2025.
 
LiFEsports program is one of 10 leading sports organizations to be funded by the SCE to achieve this Million Coaches Challenge goal. 
For more information contact: Jerry Davis, davis.1002@osu.edu, 614-247-2039
---