Sports and Society partnered with the Wexner Center for the Arts to welcome The Nation sports editor Dave Zirinin in "The Politics of Sports," a conversation about sports in the world today.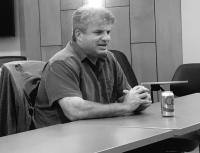 The discussion was led by Dave Filipi, the Wex's Director of Film/Video.
Zirin discussed contemporary issues such as the controversy surrounding Colin Kaepernick and Serena Williams, as well as recent events surrounding Ohio State football. He also traced the historic intersection of sports and politics through the 20th century. 
In addition to his talk at the Wexner, Zirin also shared pizza lunch with journalism and sports industry students about the role of sports media in activism. 
Named one of UTNE Reader's "50 Visionaries Who Are Changing Our World," Zirin writes the weekly online column Edge of Sports in addition to his work for the Nation, and has contributed to numerous publications including the New York Times, Vibe Magazine, the Washington Post, and the Los Angeles Times. Zirin's also the author of eight books including A People's History of Sports in the United States(2009); The John Carlos Story: The Sports Moment that Changed the World (2011); and Brazil's Dance with the Devil: The World Cup, the Olympics, and the Fight for Democracy (2014).