November 15, 2022
SSI forum builds understanding of name, image and likeness
Image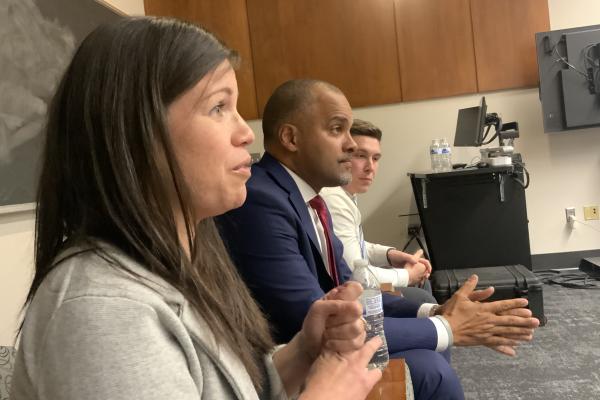 Description
SSI hosted the first-ever "Offense and Defense of NIL" event on Monday where the Ohio State community was able to learn the ins and outs of name, image and likeness.
A panel of NIL experts, including Luke Fedlam, Logan Hittle and Paia LaPalombara discussed with moderator Nicole Kraft, director of SSI, what NIL is, what the future may hold, and how to be smart and protected when making deals. 
The purpose of NIL is to provide student-athletes with opportunities to make money and grow their own brand, but it also serves as an education on how to financially prepare and what to look for in a contract. 
Fedlam, a sports attorney and Ohio State alumnus, found that NIL intersects with his work leading him to express the importance of student-athletes educating themselves on the business side of things, such as paying taxes. 
"You don't want student-athletes coming in and then leaving school in a worse position than when they started," Fedlam said. 
NIL does involve risk and getting the information to succeed in this opportunity is Hittle's job as Ohio State's first director of NIL. 
Hittle said there are two common misconceptions regarding NIL: it is only for elite athletes playing football and basketball and, second, all student-athletes at Ohio State are interested in engaging. 
Approximately 370 out of 1100 student-athletes are involved with NIL, which is roughly a third. 
"Not every student-athlete is interested in doing it," Hittle said. "Some are really interested in focusing on going and getting a post-graduate degree and they want to be elite in their sport and NIL isn't something that they want to engage in."
Three members of the women's volleyball team have taken advantage of NIL since its debut. 
Sarah Sue Morbitzer, Sydney Taylor and Emily Londot made up the second panel of experts on the opposite side of NIL and shared their experiences as student-athletes. 
Morbitzer, a third-year defensive specialist, and her mom started offering volleyball camps to high school players in July of 2021 before bringing in Taylor and Londot the following winter. 
All they needed was a name. 
"The idea of all three of us, kind of, emerged because we're all from Columbus and we all played at the same club," Morbitzer said. "We wanted to use that to our advantage and that's when 'Local Dreamers' became a thing."
Per NIL guidelines, the girls could not wear anything to their camps that connected them to Ohio State which led them to make their own merchandise that they wore and sold.  
"We can't wear Ohio State marks on our clothes," Morbitzer said. "We would text in the group chat and say 'hey, what are you going to wear,' so that's when we decided to make t-shirts."
Morbitzer, Taylor and Londot plan to continue putting on camps at high schools nearby through the winter, spring and summer. 
The girls said they enjoy the profit from doing camps, but the real compensation is knowing that the young players are there to see and learn from them. 
Hittle said "Local Dreamers" is a living testament to how endless are opportunities and how gratifying NIL can be. 
"They've crushed it," Hittle said. "They have done a phenomenal job of elevating themselves and their brand. I'm fulfilled." 
NIL is only in its second year resulting in continuous changes in policy and guidelines. 
Fedlam said he thinks the future of NIL will give each university the power to create an image of what it looks like in their athletic department, as more people become involved and understand all it has to offer. 
"I don't think it will continue to be the wild, wild west forever," Fedlam said. "I think schools are going to help to settle the market down to make it a much more normalized opportunity for student-athletes and ultimately provide the protection student-athletes need."  
Here is the complete video of the event:
 
---