November 2, 2021
SSI Event Encourages Sports Fans to Embrace Life Over Logo (with VIDEO)
Image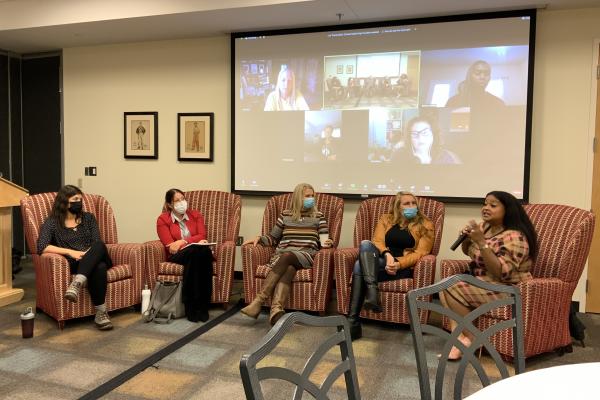 Description
by Ashley Grimmer
The Sports and Society Initiative partnered with the parents' organization Life Over Logo to host an event  Oct. 29 addressing the negative impacts of social media on the mental health of student-athletes.
Mothers of football players from across divisions spoke on a panel about what toxic social media messaging means from a mother's perspective and how this is an issue that has been overlooked for too long.
Participants included:
Amanda Babb, mother of Ohio State football captain Kam Babb 
Shona Burr, mother of Kalamazoo College football player Ian Burr
Rykesha Cowan, mother of Ohio State football player Jacolbe Cowan 
Monica Daniels, mother of Ohio State football player Paris Johnson
Kristina Miller, mother of Ohio State football player Harry Miller 
Stacy Wray, organizer and mother of Buckeye football graduate Max Wray, now of Colorado College
"No athlete is ever going to play a perfect game," Wray said. "As moms, we have an ongoing conversation that what we love about our players being student-athletes is what they learn by making mistakes."
Having student-athletes stay off of social media is what many people suggest to avoid the harsh criticism and hurtful social media messages.
"Student-athletes are now faced with 'I just have to turn off my social media, I can't handle this,'" Wray said. "You are 19, 20 years old, you've grown up with social media, and now your only way to protect yourself is to completely disconnect?"
Instead, Life over Logo is seeking to spark the conversation, protect mental health and find solutions to the issue instead of just telling student-athletes to disconnect.
The group also heard from:
Lori Holtmann, wife of Ohio State coach Chris Holtmann, speaking about how the team coped with vitriolic messaging sent in March to Buckeye forward E.J. Liddell;
Julie DiCaro of Deadspin, who has mounted her own challenges to social media hate, and
Ohio State sports psychologist Chelsi Day
Later in the event, attendees broke off into small groups led by Ohio State sports psychologists Logan Hartnell and Charron Sumler to discuss how they can bring light to these issues and create solutions.
Takeaways include pressing the issue and bringing the conversation to the forefront of people's minds as well as encouraging journalists to bring the topic to light and displaying model behavior for how people should interact on social media.
"We need to bring the hidden things to light," Wray said. "How can we be more accountable for what we say?"
Follow Life Over Logo on Twitter and Instagram for more information.  
Watch the complete program here:
 
---