October 2, 2023
New University President Ted Carter says hockey background helped bring him to Ohio State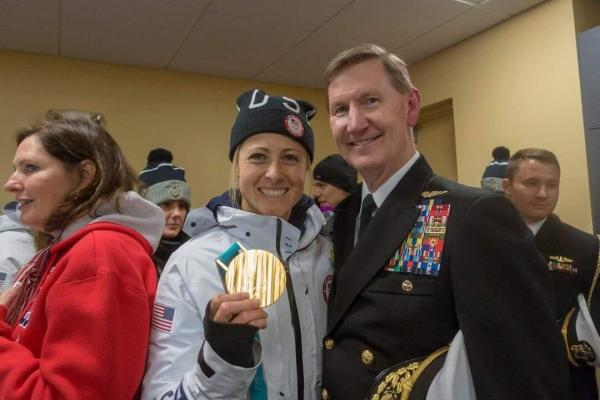 By Lauryn Luderman and Katy Popovitch
An important quality of an Ohio State president is that they understand the value of athletics.
No one appreciates that more than Walter "Ted" Carter Jr.
Carter, announced Aug. 22 as Ohio State's 17th university president, said he is both where and who he is because of ice hockey. From playing as a peewee to captain of the U.S. Naval Academy's team, Carter said he learned lessons in leadership and teamwork, made dozens of lifelong friendships and met the love of his life.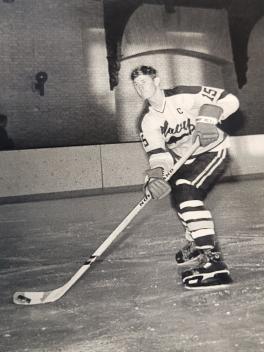 "I think that's what's most important and what ice hockey did for me in my professional career, my personal life and what's arguably even brought me to Ohio State," he said.
Carter graduated from the Naval Academy in 1981 with a bachelor's degree in physics and oceanography, while lettering in ice hockey all four years and earning captain status his senior season. From there, he attended the Navy Fighter Weapons School, better known as Top Gun, during his 38-year career in the service.
He next began a life of service in office. In 2013, Carter became the 54th president of the Naval War College before becoming the 62nd superintendent of his alma mater. Five years later, Carter was appointed the eighth president of the University of Nebraska.
He will continue his tenure there until Jan. 1, 2024, when his time at Ohio State begins.
"I'm still excited about what I'm getting to do here in Nebraska," Carter said. "I want to see Husker athletics finish well, but I'm excited about one January 2024."
Carter has held many high-stature, leadership positions, but these opportunities may have never come if it weren't for his father, Walter Carter Sr., who introduced him to the game of ice hockey at a young age.
Growing up in Burillville, Rhode Island, Carter said he was on skates at 3 years old following the path of his father, who played ice hockey through high school and university, and was an all-state player his senior year at Providence College.
"I actually thought I was going to be somebody in hockey. It turned out I didn't grow as fast as some of the rest of the boys," Carter said.
Carter said he realized his National Hockey League dreams were kaput when he was a benchwarmer in high school, so he turned his focus to other sports. But he never stopped skating.
He slowly got bigger and stronger, and when Carter tried out for Navy's ice hockey team his freshman year he made the roster. He said it "shocked everybody" back in Burillville.
In his first year, Carter had eight goals playing on the fourth line, which he said was referred to as the "snot" line because their practice jerseys were green. He even earned his nickname "Slapshot" that same year—ironically because his shot was so bad.
Carter clearly remembers the message from his head coach, Steve Gordon: "You ever raise your stick above your knees, you're benched."
Despite his lack of slapshot skill, Carter had a successful first year playing collegiate hockey. Although he suffered a bit of a sophomore slump, he picked up his biggest win at the rink in January of 1979.
On Saturday nights in Annapolis, Navy's ice rink turned into a disco and students from around the area would come dance, including Lynda Kohlhepp, a freshman at the University of Maryland. Carter said "Le Freak by CHIC" was playing when he asked Kohlhepp a question that would change the trajectory of his life.
"I asked her to come to the game the next day [against] Duquesne," Carter recalled. "We ended up [winning] 4-2 and I scored two short-handed goals."
The pair began dating, and Linda attended every home game he played for the rest of his career. She also got him out of his slump, as he had a string of scoring at least two goals per game with his beloved in the stands.
Carter became the Navy's team MVP his senior year and led the team in points.
Though his graduation marked the end of his competitive playing days, the game remains a large part of his life.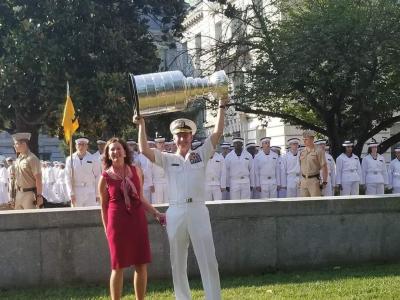 In 2018, Carter attended the NHL Stadium Series, where the Washington Capitals beat the Toronto Maple Leafs 5-2 in the U.S. Naval Academy's Memorial Stadium.
"For being a lifelong hockey player and hockey fan, it was probably one of the coolest things I've ever seen," Carter said. "The opening ceremony was just so cool. We actually marched the Midshipman out, and we did a manning of the rails of this God's eye view silhouette of an aircraft carrier with a hockey rink in the middle."
The Washington Capitals went onto win the Stanley Cup that year and attributed their Stadium Series win as the spark they needed to become champions. Because of this, Carter got to spend a day with the Stanley Cup trophy.
"They tell you two things, 'You can't drink out of it and you can't lift it over your head,' so those are the first two things I did," Carter said.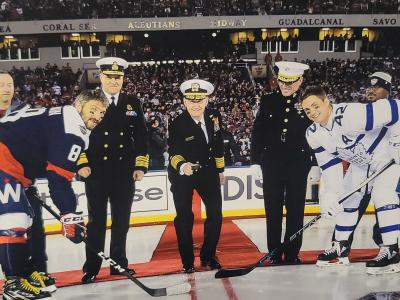 In addition to being a fan of Ohio State's ice hockey programs, Carter will be cheering on the Columbus Blue Jackets and has followed along through their current "rebuilding stage." He said he becomes a fan of whatever is the nearest team.
Although Carter has a history with hockey, he said enjoys all sports and is excited to be involved with each of Ohio State's 36 Division I teams.
"That was a draw for me as I went through the interview process, to see a program that is so deeply invested in athletics," Carter said.
Shaun Richard, a senior associate director of athletics for sports administration at Ohio State, said it is exciting the university will have a president that understands the complex world of collegiate sports. Specifically, his experience at schools with ice hockey programs.
"He is getting to live and breathe that right now," Richard said. "He will bring that experience in to us, where we won't have to educate him as much on, 'Here's what ice hockey can bring to the table at Ohio State.'"
Richard, who has worked with Ohio State's men's ice hockey program for 10 years, said he hopes to see the president show his support as much as possible in the ice rinks.
"I hope that whenever I am walking around with an alumni at a men's ice hockey game, that I can stop and introduce him to the president, because I know that he is probably going to be there," Richard said.
It will not be long until Carter joins the Buckeyes on the ice for the first time, as he is dropping the puck when Ohio State's men's ice hockey takes on the Huskers in Omaha Oct. 27 and 28.
"I can't tell you which jersey I am going to be wearing," Carter said. "I might have both on — one underneath the other."
Come the first of the year, Carter will undoubtedly be sporting the Scarlet and Gray. He looks forward to lacing up the skates and getting on the ice with the teams, as he told men's ice hockey head coach Steve Rohlik.
His commitment to sports is already significant to the athletics community.
"As a student athlete, you feel more connected to the university when a president that you know who is unbelievably busy, especially at a place like Ohio State, will take time out of their day and block their calendar because they want to come out and be with your student athletes," Richard said. "I'm excited to see him do that, and I honestly think he will."
Carter said it will take him a while to see every team play, but he is excited to make his rounds and build relationships with everyone involved in Ohio State athletics. He recognizes the role hockey played in his life and hopes athletic engagement has the same effect on Ohio State's student-athletes.
"I know what it did for me in terms of understanding teamwork, how to be successful [and] how to understand that the sum of all parts is greater than any one individual," Carter said. "It served me well in leading complex organizations, flying combat — which is the ultimate team event — and understanding just what it takes to win."
---