January 25, 2023
Malcolm Jenkins joins EHE, SSI to celebrate life, work of MLK Jr.
Image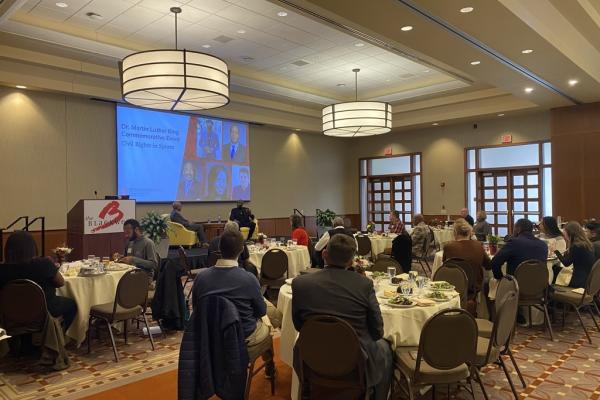 Description
By Lauryn Luderman
There are few better ways to acknowledge the life and work of Martin Luther King Jr., than spending an afternoon with NFL and Buckeye star Malcolm Jenkins, Ohio State Athletic Director Gene Smith and former Big Ten Commissioner Kevin Warren speaking their truth on race, college athletics and life. 
A ballroom full of people at the Blackwell Inn spent their Tuesday afternoon at the Dr. Martin Luther King Commemorative Event, sponsored by Ohio State's College of Education and Human Ecology, and Sports & Society Initiative.
This event honored King, his message and his mission, with the help of several special guests who could provide their extraordinary perspectives on the realities of being Black in America. 
Jenkins, an alumnus of Ohio State and former Buckeye and professional football player had childhood experiences that drove him to find his true calling after his days on the field.   
"I saw a lot of the things, like inequities, in schooling, criminal justice, stuff like that, and I thought that's just the way things were, and we have to figure out how to navigate it," Jenkins said. "Until eventually you just get frustrated with it, and you say, 'Oh I'm going to try and change it.'" 
Jenkins works with several race-based initiatives, including his own Malcolm Inc. and The Malcolm Jenkins Foundation, along with Broad Street Ventures and Listen Up Media. 
In a conversation with EHE Dean Don Pope-Davis, Jenkins said that sometimes to make a change, a "table needs to be flipped," metaphorically. 
"All of those protests [Black Lives Matter and police brutality] are controversial, and as divisive, as they were, was necessary. No one listened before," Jenkins said. "We talk about legacy and Dr. King and all these other legs we stand on. That was their legacy. They flipped tables." 
The conversation continued with a complete panel of Jenkins, Smith and Warren, moderated by Nicole Auerbach, college football writer for The Athletic. 
Racial injustice carried into the discussion of the panel but then turned into something additionally potent—what players do off the field. 
Smith, Ohio State's athletic director of 18 years, recognized the education his athletes get outside of the game and even the classroom: education that betters the community surrounding them. 
On Jan. 16, MLK Day, several members of the football team went to The King Arts Complex as part of the Buckeyes Care program and the Eugene D. Smith Leadership Institute. 
"A lot of those young people in that community have never been in our stadium," Smith said. "We created programming so that they can come to our athletic events. It's the first time they are in the stadium that they are like 10 minutes from." 
Smith said student-athletes see these things and are oftentimes passionate about getting involved. 
The work that Smith does for the athletic program daily is nothing if not inspiring for those who see it, experience it, and hear about it, which is why it is one of the best in the nation. 
Warren, now president and CEO of the Chicago Bears, commended Smith for the foundation and example he has set at Ohio State. The best compliment an individual can receive is being compared to Smith, Jenkins or himself as a successful person of color, Warren said. 
 
"If someone says, down the road, 'I think that's another Gene Smith,' or that's another Malcolm Jenkins," Warren said. "Hopefully they'll say that about me; that they see something in that. I think about that every day." 
All three panelists want their legacy to serve as an "if he did it, I can do it" attitude for people of color. 
Because of his skin color, Warren said failing was not an option. Opportunities for people who look like him, Smith and Jenkins don't come around twice. 
Auerbach asked the panel for their "take-home lessons" on how someone can enhance the chances for those with societal disadvantages to be the next success story or an inclusive leader for others to follow. 
Jenkins said leaders must welcome diversity and look past physical appearances and where someone comes from.  
"When I can be a soundboard of people's different perspectives, it's always raised my ability to be a leader," Jenkins said. "I think most leaders get afraid of diverse thought because you feel like you're losing control. The best leaders are ones who are followers." 
Smith and Warren agreed on the most important thing to remember—everyone has blind spots. Leaders, students, athletes, and people need others to provide additional lenses, Smith said. 
"As a leader, I want a diverse group of people, not just in ethnicity, race and sexuality, but I want people from a rural environment versus an urban environment," Smith said. "I want all that to help me see what I don't see. To help me get over that blind spot." 
 
---