November 19, 2021
Intern Insights: Mackenzie Shanklin on the View from The Bunker
Image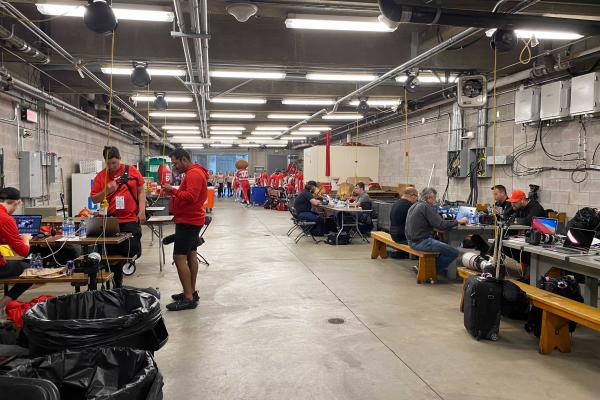 Description
Our Sports and Society interns have a unique perspective on many aspects of Ohio State athletics, and we are honored to share some of their game-day experiences to show what it is like behind the scenes. In this article, Mackenzie Shanklin shares what it is like to be a sideline photographer in her work with The Lantern.
It's gameday. You file into the Ohio Stadium and make the steep trek to your seats. Once you sit down, you see the Buckeyes come out in waves and they start warming up. Your anticipation grows as more and more Buckeyes flood onto the field to warm up for the game.
While you may be flooding into your seats, there is a whole crew of media who watch and work from the field sidelines capturing video and photographs, and editing and transmitting from their seats in "The Bunker."
Yes, there is a bunker beneath the south stands, spanning the length of the end zone. It houses about twenty to thirty media members and the Ohio State cheerleading and dance teams during halftime and throughout the game.
I work for The Lantern as the photo editor, and this is where I spend a majority of my time before, during and after any home football game. The space gets pretty packed on big game days, so the workspace is pretty tight, but it works for what we need to curate and produce the images you see of the Ohio State Football team.
We all cram together on about three long tables with benches and chairs scattered around trying to reach outlets and playing Tetris with all of our equipment to fit into the space we have.
Sometimes I've ended up on the floor to edit my images because the space has been so filled. 
The bunker is never quiet. The space is always filled with chatter, the roars from the crowd above and the music from The Best Damn Band in the Land. The bunker is not the plushest place in the stadium if you compare it to the press box, but it gives the sideline hustlers a place to get to work.
Being able to be part of the photography community means I get to work inside the bunker with all of the people who inspire me to be a better photographer. 
The next time you're watching the game and at halftime you see multiple get up and run with large heavy cameras towards the southside of the stands, just know they are running the bunker to upload snapshots of the game you're witnessing in-person.
 
---