Image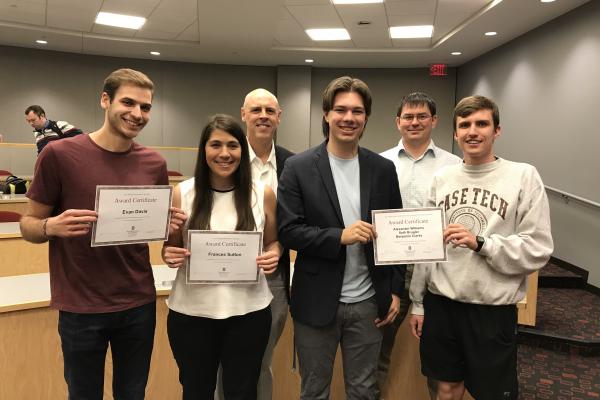 April 14, 2022
8:00AM - 12:00PM
Location
Ohio Union and Zoom
Date Range
Add to Calendar
2022-04-14 07:00:00
2022-04-14 11:00:00
SAVE THE DATE: 2022 SSI Student Sports Research Fair
The 3rd SSI Student Research Fair will be a celebration of OSU student-led research on sports and social issues over the past year.   We encourage participation by students who have completed sports and society research independently, for a class project, as part of a research thesis, as a research assistant, or through other similar means. Eligible topics may include research on the effects of sports involvement, the business of sports, sports and culture, and sports analytics, for example.  A project should have reportable results prior to submission. An OSU undergraduate student should be the sole or first author on all submissions.  All accepted projects will be represented by a research poster at the Research Fair on April 14, 2022. Ohio State's Sports & Society Initiative promotes high-quality research related to issues of societal concern in sports at all levels through research grants, undergraduate and graduate training and internships, the sponsorship of conferences and interaction with policymakers in sports and related industries. Questions: sportssociety@osu.edu
Ohio Union and Zoom
OSU ASC Drupal 8
ascwebservices@osu.edu
America/New_York
public
Date Range
Add to Calendar
2022-04-14 08:00:00
2022-04-14 12:00:00
SAVE THE DATE: 2022 SSI Student Sports Research Fair
The 3rd SSI Student Research Fair will be a celebration of OSU student-led research on sports and social issues over the past year.   We encourage participation by students who have completed sports and society research independently, for a class project, as part of a research thesis, as a research assistant, or through other similar means. Eligible topics may include research on the effects of sports involvement, the business of sports, sports and culture, and sports analytics, for example.  A project should have reportable results prior to submission. An OSU undergraduate student should be the sole or first author on all submissions.  All accepted projects will be represented by a research poster at the Research Fair on April 14, 2022. Ohio State's Sports & Society Initiative promotes high-quality research related to issues of societal concern in sports at all levels through research grants, undergraduate and graduate training and internships, the sponsorship of conferences and interaction with policymakers in sports and related industries. Questions: sportssociety@osu.edu
Ohio Union and Zoom
Sports and Society Initiative
sportssociety@osu.edu
America/New_York
public
Description
The 3rd SSI Student Research Fair will be a celebration of OSU student-led research on sports and social issues over the past year.  
We encourage participation by students who have completed sports and society research independently, for a class project, as part of a research thesis, as a research assistant, or through other similar means. Eligible topics may include research on the effects of sports involvement, the business of sports, sports and culture, and sports analytics, for example.  A project should have reportable results prior to submission. An OSU undergraduate student should be the sole or first author on all submissions. 
All accepted projects will be represented by a research poster at the Research Fair on April 14, 2022.
Ohio State's Sports & Society Initiative promotes high-quality research related to issues of societal concern in sports at all levels through research grants, undergraduate and graduate training and internships, the sponsorship of conferences and interaction with policymakers in sports and related industries.
Questions: sportssociety@osu.edu
---